Balloons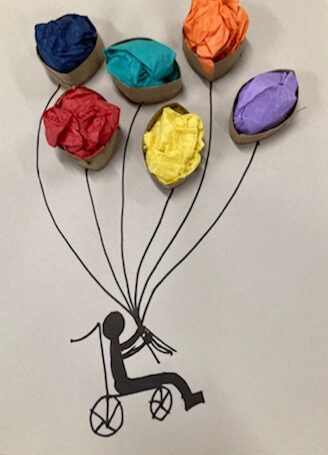 Supplies
Black Marker
4 different colors of tissue paper
White construction paper
White school glue
scissors
Paper tube
Artist/Artwork
Banksy – Girl with balloon
Book Author
Mick Inkpen – The Blue Balloon
Vocabulary
Form
Relief
Silhouette
National Art Standard(s): Anchor Standard 1 – generate and conceptualize artistic ideas and work.
NVAC Connectors: ELA – Identify key characters in a story; Describe characters in a story (e.g. their traits and feelings); Identify a character's actions in a story.
Parents,
Welcome to Arts for All Nevada's Virtual Arts Education Program. This lesson is called Balloons.
In this supply kit, you will find items needed for the lesson. You may also be using items received in previous supply kits as well as scissors and an empty tube from any paper product (such as paper towels).
Items in this supply kit:
Colored Tissue Paper
White school glue
White construction paper
Black Marker
Happy creating!!!