ARTS FOR ALL NEVADA RESOURCES
As the community's center for the exploration of arts and culture, we believe in the importance of connecting community members to the information they need to live a more inclusive, accessible life. Explore our list of resources below to learn more about how arts, education, and ability overlap.
Please note that the views expressed by outside resources are not always shared by Arts For All Nevada. Learn more about our values and goals.
We are fostering
creativity and exploration

in children and adults alike through quality programs led by talented teaching artists.
FREE WEEKLY WONDERS ART PROGRAMS
for teens and adults with intellectual disabilities

resources for individuals with disabilities
Language Matters
mabblemedia
2021-08-16T21:36:31-07:00
Summarized from an article written by Patti Digh.
Use the people-first rule: "the man who is blind" not "the blind man."
Avoid terminology like "suffers from," "afflicted with" or "victim of," all of which cast disabilities as a negative. "Suffers from" indicates ongoing pain and torment, which is no more the case for most people with disabilities as it is for most people without disabilities. "Afflicted with" denotes a disease, which most disabilities are not. "Victim of" implies a crime is being committed on the person who has a disability.
Do not use "wheelchair-bound" or "confined to a wheelchair." People see their wheelchairs as convenient modes of transportation, not prisons, and the "bound/confined" phrase belies the fact that many people with motor disabilities engage in activities without their wheelchairs, including driving and sleeping. The proper phrase is "uses a wheelchair."
Use "disability" not "handicap." The word "handicap" derives from the phrase "cap in hand," referring to a beggar, and is despised by most people with disabilities. Other terms to avoid: "physically/mentally challenged" (who isn't?) "cripple" and "crippled."
Use "nondisabled" or "people without disabilities." The terms "normal" and "whole" are inappropriate and inaccurate. Most disabilities are not a disease. Do not call a person with a disability a "patient" unless referring to a hospital setting. In an occupational and physical therapy context, "client" is preferred.
Some diseases, by legal definition, are considered disabilities. Victimization imagery ("AIDS victims") or defining the person by the disease ("she is a diabetic") is still inappropriate. Use "person with diabetes" or "people living with AIDS."
"Blind" refers to a total loss of eyesight; "low vision" or "visual disability" is more accurate for people who have some degree of sight. Avoid "non-sighted."
People who consider themselves part of Deaf culture refer to themselves as "Deaf" with a capital "D." Because their culture derives from their language, they may be identified as you would other cultural entities, i.e. "Asian-Americans," "people with disabilities."
For people with speech disabilities, avoid "mute," "dumb," or "speech impediment." Avoid "deformed," "deformity" and "birth defect." A person may be "born without arms" or "has a congenital disability," but is not defective.
Down syndrome is a chromosomal condition that causes developmental disability. Use "person with Down syndrome." Avoid "mongol" or "mongoloid."
Mental disabilities include cognitive, psychiatric and learning disabilities and physical head trauma. Avoid "mentally retarded," "insane," "slow learner," "learning disabled" and "brain-damaged."
Cerebral palsy is a disability resulting from damage to the brain during birth that causes muscle coordination issues. Avoid "palsied" and "spastic."
Avoid "dwarf" or "midget." Some groups prefer "little people," but it's best to use "person of short stature."
A seizure is an episode caused by a sudden disturbance in the brain. If seizures are recurrent, it is called a seizure disorder. Use "person with epilepsy" or "child with a seizure disorder." Avoid "epileptic," either as a noun or adjective.
Quadriplegia is a substantial loss of function in all four extremities. Paraplegia is a substantial loss of function in the lower part of the body. Use "man with paraplegia" or "she has quadriplegia." Avoid "paraplegic" or "quadriplegic" as either a noun or adjective.
These suggestions may be helpful in planning arts activities, events or special programs for people with the following disabilities:
General Disability
Attention Deficit Disorder
Blindness
Deafness
Mental Illness
Intellectual Disability
Mobility Limitations
Traumatic Brain Injury
Resources for Teachers, Parents and Caregivers
VSA Educator Resource
mabblemedia
2021-11-12T10:39:35-08:00
50 Safety Tips for Seniors
mabblemedia
2021-10-20T20:37:14-07:00
Whole Child Education
mabblemedia
2021-10-20T20:34:13-07:00
Whole Child Education: Members of the Whole Child community make a difference by advocating to ensure that every child is healthy, safe, engaged in learning and their community, supported by caring adults, and exposed to a challenging curriculum that includes arts, music, and other essential courses.
VSA
mabblemedia
2021-10-20T20:54:31-07:00
VSA, an affiliate of the John F. Kennedy Center for the Performing Arts, is the international organization on arts and disabilities with a wealth of information concerning the arts, disability and more. Arts for All Nevada is the Nevada state affiliate of VSA.
The VSA resources listed here are designed to give educators and parents greater access to information on the relationship of arts, education, and disabilities, especially for children with disabilities.
Educator resource: The Artistry of Water (PDF)
Resources for Artists
Careers in the Arts
mabblemedia
2021-10-20T20:38:26-07:00
Arts Education Partnership (AEP)
mabblemedia
2021-10-20T20:38:56-07:00
Arts Education Partnership (AEP): A national coalition of over 150 arts and education organizations that demonstrate and promote the improvement of America's schools and the essential role of the arts in the learning and development of every child.

PROGRAMMING RESOURCES FOR TEACHERS
Artist In Residency
mabblemedia
2023-08-08T15:01:56-07:00
Programs
The Artist in Residency Program places teaching artists in special education classrooms at no cost and in general education at a minimal cost. Please refer all questions about the Program to Arts for All Nevada's Arts in Education Coordinator, Eva Lerud. Eva can be reached by email (eva@artsforallnevada.org ) or by phone at (775-376-8492).
The Artist in Residency Program is supported by the City of Reno's Arts and Culture Commission, the John Ben Snow Memorial Foundation, NV Energy Foundation, the Marshal R. Matley Foundation, Umpqua Bank Charitable Foundation, and the Nevada Arts Council. Additional funding comes from the statewide sale of the "Rich in Art" License Plates Program.
Workshops in the classroom
A minimum of 10 hours of art instructions for a maximum of 15 students. Choice of visual art or creative movement. Participating classrooms may choose up to 10 hours of one discipline or 5 hours of each discipline. Remote lessons, via Zoom or Microsoft Teams, are also available.
Target Participants: PreK-12 students receiving special education services. Traditionally offered to self-contained special education classes including CLS, SIP, and Strategies. Other resource programs that guarantee the same group of students will participate in all ten hours of instruction may also utilize this program.
Cost: The program is free for qualifying classrooms. Beyond the 10 hours, additional workshops are available to classrooms for $70 per workshop. Art supplies are provided for in-person instruction.
Assistance in providing art supplies is available on a case-by-case basis.
Art Workshop Videos
A series of video art workshops, developed specifically for use in special education classrooms and remote learners.
Target Participants: PreK-12 students in any self-contained special education classroom.
Cost: The program is free for qualifying classrooms. Lessons are designed to use basic art materials. A lesson plan and supply list are provided prior to the release of the videos. Assistance in providing art supplies is available on a case-by-case basis.
Art Instruction in General Education Classrooms
Grade-level appropriate art instruction in the general education classroom for a nominal fee. Each workshop is one hour long. Grade-level specific remote lessons, via Zoom or Microsoft Teams, and/or workshop videos are also available.
Target Participants: PreK-12 students in any general education classroom.
Cost: $70/workshop for up to 30 students. Includes basic art supplies for on-site instruction. Art supply kits for remote lessons and/or video workshops have the option of purchasing art supply kits.
Virtual Art Workshop
Agostina Renaud
2021-10-20T20:55:28-07:00
Balloons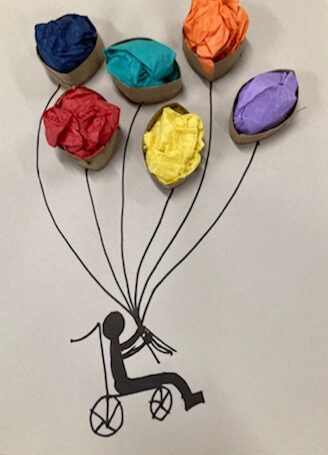 Supplies
Black Marker
4 different colors of tissue paper
White construction paper
White school glue
scissors
Paper tube
Artist/Artwork
Banksy – Girl with balloon
Book Author
Mick Inkpen – The Blue Balloon
Vocabulary
Form
Relief
Silhouette
National Art Standard(s): Anchor Standard 1 – generate and conceptualize artistic ideas and work.
NVAC Connectors: ELA – Identify key characters in a story; Describe characters in a story (e.g. their traits and feelings); Identify a character's actions in a story.
Parents,
Welcome to Arts for All Nevada's Virtual Arts Education Program. This lesson is called Balloons.
In this supply kit, you will find items needed for the lesson. You may also be using items received in previous supply kits as well as scissors and an empty tube from any paper product (such as paper towels).
Items in this supply kit:
Colored Tissue Paper
White school glue
White construction paper
Black Marker
Happy creating!!!
language matters
The words you use and the way you portray individuals with disabilities matters. This factsheet provides guidelines for portraying individuals with disabilities in a respectful and balanced way by using language that is accurate, neutral and objective.
We envision a world unified by the arts, where communities engage, create, and grow together.